Hybrid Mobile App Developer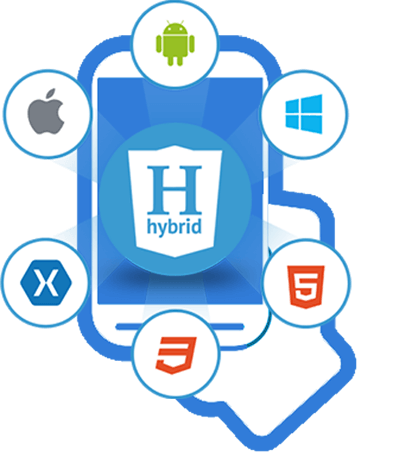 Hybrid Mobile App Developer
---
Hire Dedicated Developer from Grab Technology Solutions
Combining web applications and native applications is a Hybrid mobile app development set-up. The process of setting up a hybrid model consists of CSS, JavaScript, and HTML. These languages are used inside a "native container". This makes them easy to run across all different kinds of operating systems or devices and the best part is that you don't need to make any changes as well.
If you are looking for experienced and well-qualified hybrid mobile app developers, then you are at the right place. The hybrid mobile app developers at Grab Technology Solutions will offer the latest solutions for your business growth. The developers at Grab Technology Solutions have a great experience with developing various types of hybrid apps. They have been creating amazing performing hybrid apps for different industries using the best web applications and native applications. Not just they are experiencing, but they also understand the technology to come up with unique applications to give your business a boost. The proficient developers provide you with unique solutions which conform with the latest technology. The hybrid helps you reduce your hassle, as you can have just one hybrid app that runs across all the platforms. This is surely a good way to save your money, time, and effort.
So walk up the ladder by having a customized hybrid app designed for your business with the best hybrid mobile app developers in the industry.
WHY HIRE HYBRID MOBILE APP DEVELOPER FROM US?
We have come up with a few reasons which suggest why it is a good idea to hire hybrid mobile app developers at Grab Technology Solutions:
HIGHER QUALITY OF MOBILE APPS
You can take the mobile app quality to a completely new level by hiring professionals with us. The developers at Grab Technology Solutions work hard to brighten the chances of project success for your business by providing the finest solutions.
With just one hybrid app, you can save on your money by controlling unnecessary IT charges. This would surely help you use your resources for other constructive things.
ENJOY UNPARALLELED FLEXIBILITY
Our professionals promise to offer flexibility in working with our clients so that their businesses stay ahead in the markets and make more money.
Benefits of hiring
Hybrid Mobile App Developer

from Grab Technology Solutions
Custom Software Solutions
blogs
READ IDEAS FROM WORLD'S CURIOUS MINDS
Get Connect To Discuss Your Idea.
Get an enhanced partnership opportunity with one of the leaders and complex technology experts, who works to grow your business.