Cross platform App Development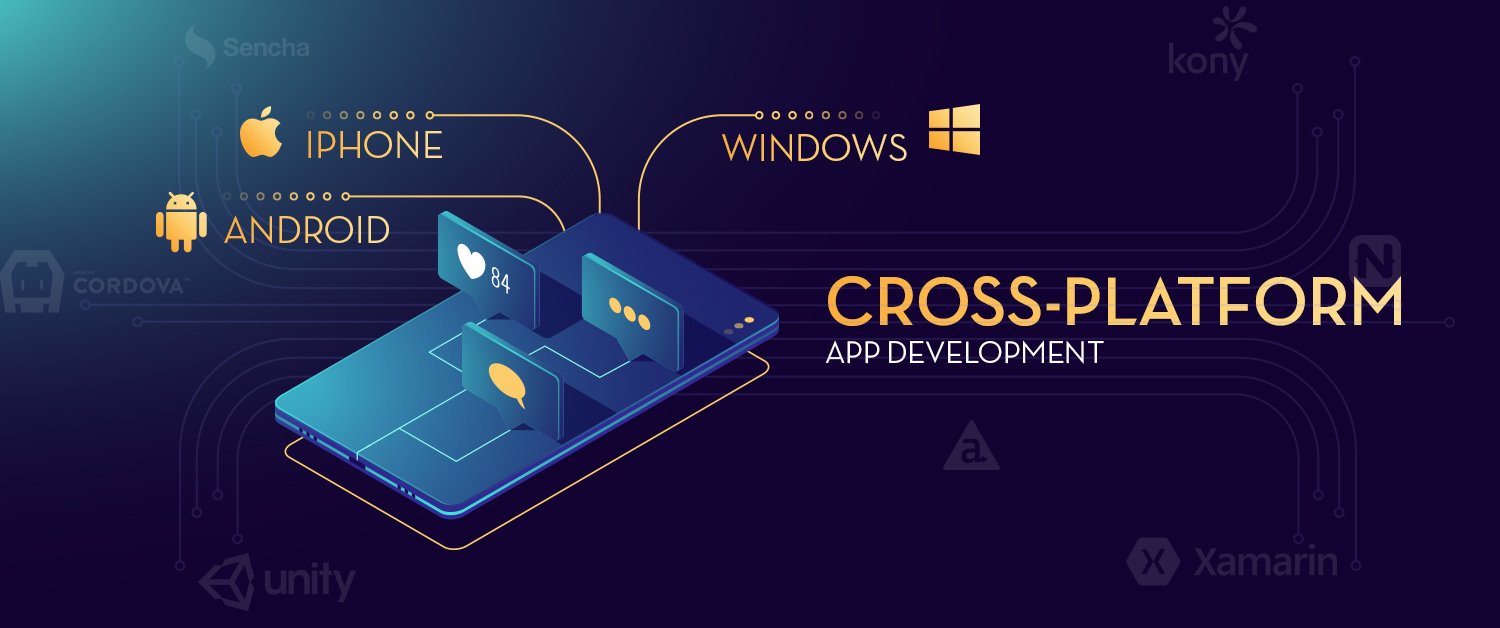 Cross platform App Development
In these days of neck-to-neck competition among different brands and companies, do you want to know the easiest way to stand out from the others? But, how to make a place in the market??
You should be envisioned to grow your business on the basis of the likes and dislikes of your key target audience. The easiest way is to create an ideal audience and engage with them on a regular basis.
And we, your app development company have brought for you an amazing way to build your application on all platforms- CROSS PLATFORM APP DEVELOPMENT
In today's technical landscape, mobile app production companies will not risk not having a presence on either the Google Play Store or the Apple App Store. As a result, because of the ever-changing existence of technology, cross-platform software growth has arisen as the unrivaled option for companies seeking a footprint on both Android and iOS.
Native and cross platform software creation platforms are constantly evolving. But what do cross platform apps have?
A cross platform application development company in India builds Cross-platform frameworks aiming to create an interface that hits as many of the brand's fans as possible by covering a broad range of devices during the creation process and the programming part.
And, as a Cross platform app development company, strive to provide you the best cross platform app development services in India. We try to provide you a technology for your application that is more dependable, strong, and versatile than ever before.
We, as a group, are concerned not only with the money in your pocket but also with delivering only the finest. Cross platform app development services in India are much cost-effective, pocket-friendly, have easy hosting, and have the fewest technological hurdles.
And, if we have such a solution, why not take a step forward from our old techniques?
Now, the main question is why choose Grab Technology Solutions for your Cross platform App Development services?
What difference do we provide?
When you'll choose us, you will benefit from a team of well-experienced and dedicated people's hard work. As your Cross platform app development company, we are continually trying to find answers to all your problems, sometimes even with problems we aren't yet informed of.
We have a forward-thinking approach to technologies and marketing strategies. We will discover one-of-a-kind ideas and key options for you and assist you in making them a reality. We won't leave your side until and unless, you as a client are satisfied with our project.
We provide to you tangible results, not experimental conclusions.
You are our priority till the time you feel convinced with what we have delivered to you is fit for your use.
Using cross platform app development services in India will help you engage more. It broadens your appeal to your intended audience. With benefits like reusable code, easy maintenance, and a quicker development process, these services stand out because of their reduced cost.
With so many benefits in hand, we must be smart enough to make the right decision at the right time and select what is the best for your company.
So why wait anymore?
Contact us for more details to let us serve you as the best Cross platform application development company in India.
blogs
READ IDEAS FROM WORLD'S CURIOUS MINDS
Get Connect To Discuss Your Idea.
Get an enhanced partnership opportunity with one of the leaders and complex technology experts, who works to grow your business.